A busy weekend; on Saturday we travelled to London to see Ballet Rambert perform Ghost Dances at Sadler's Wells (wonderful – we last saw this in York 36 years ago!).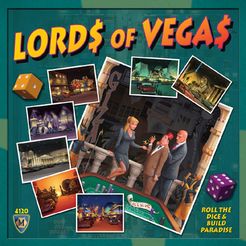 On Sunday we visited Val and Chris and played a single game of 'Lords of Vegas', which was a new game for us as a group. The strategy revolves around developing and then controlling casinos on the Vegas strip; an interesting mix of economics and dice rolling. The game starts slowly, lulling you into a false state of security, but develops into a cut-throat take-over mode as the end approaches. The ability of players to negotiate deals also plays a significant part of the game, and I think Chris was especially astute in this respect. He gained early control of a large casino complex on the central strip which would win him the game. The final scores were very tight, all players were within 2 scoring places of the winner. An enjoyable game, but players need to be thick skinned because your friends will stab you in the back and you need to be OK with this. I recall that on one turn I was short of $2M, so gambled successfully at Val's casino and used my winnings to immediately take control of said casino; she was not a happy bunny! Elaine also knifed me a couple of times, but Chris got away relatively unscathed because his casino was too big (and therefore too expensive) to move against.
We only played the single game because we spent time discussing arrangements for our up-coming trip to UKGE at Birmingham NEC in a couple of weeks. Looking forward to this and will write up an account in a future post.